Swecon 2019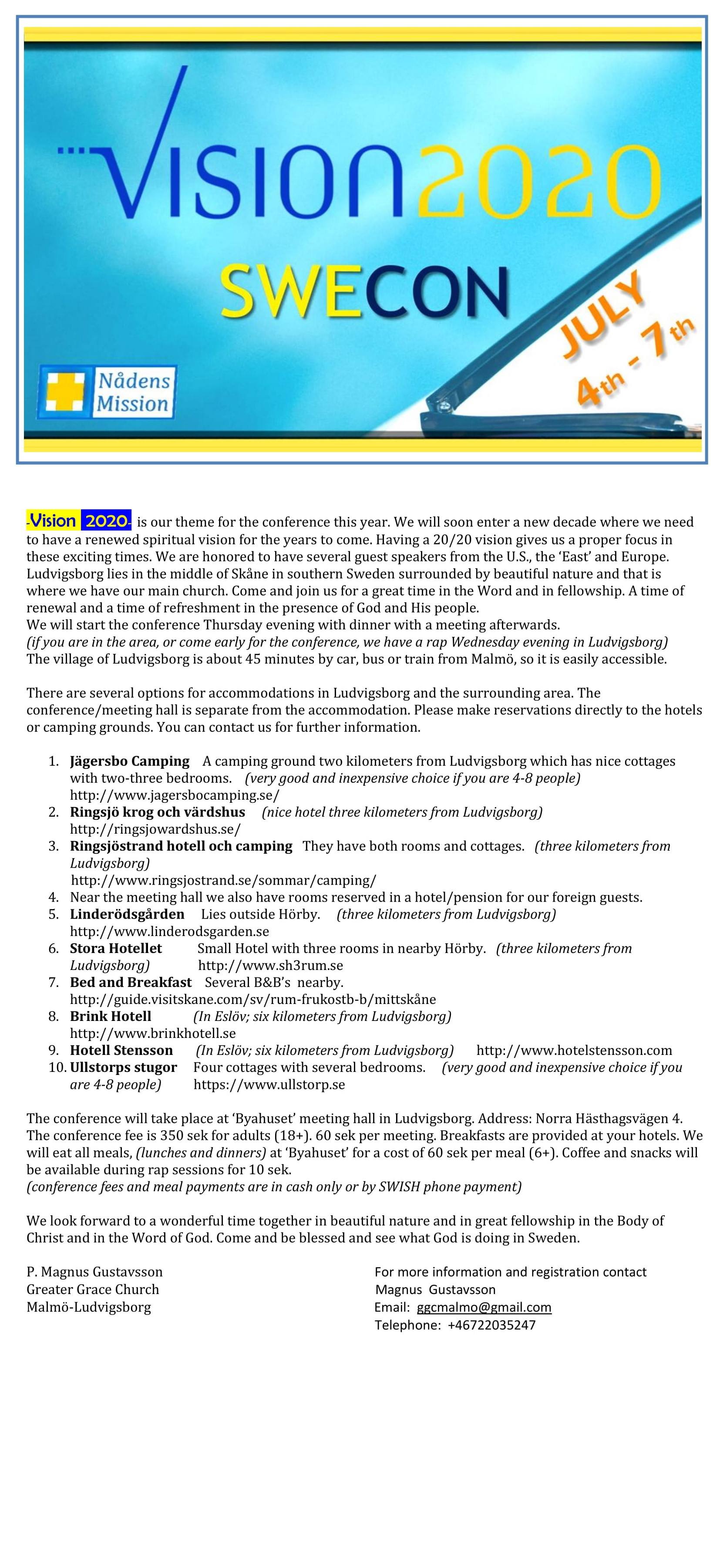 Summer conference (Swecon) in Ludvigsborg 2018
God is for us – is the theme for our summer conference this year and we have the privilige to have P. Matti Sirviö as our guest speaker!
Information
Dates: 5-8 July
Place: Byahuset in Ludvigsborg. Address: Norra Hästhagsvägen 4
Conference fee: 350 sek per person (150 sek for one day)
Lunch and dinner: 50 sek per meal
All can be payed cash (or via Swish) at Ludvigsborg
Accommodation: Contact us for more information
Registration
Register by contacting Pastor Magnus Gustavsson via mail or phone:
M: ggcmalmo@gmail.com
T: +46 722 035 247
Visitors from London
Mark Grandjean and Pastor Tony Morley from London visits us the 26-28/1.
Schedule:
Friday 26/1
19.00 Meeting at the Toll´s
Sunday 28/1
10.30 Meeting at Pumpan

P Tony Morley with his wife Joyce Morley
Marc Grandjean
Meetings during Christmas season
During Christmas season many are away, but some of us are still here and want to meet. If you want to come, send us an e-mail and we´ll get back to you with more information.
December
17/12 at 12, Christmas party at Pumpan, Färgargårdstorget 1
21/12 at 7 pm, mid-week meeting at the Ask family
25/12 at 4 pm, Turkey dinner at the Krengel family
28/12 at 7 pm, the Toll family opens its home
31/12 at 6 pm, New Year's celebration at the Krengel family
January
4/1 at 7 pm, mid-week meeting at Mesrak
After that everything will be as usual again! Welcome!
Christmas Party 2017
Welcome to this years Christmas Party!
Bring a friend (of two) and join us the 17th of December.
Where? Färgargårdstorget 1
When? Sunday the 17th of December at 12:00